Dear Friends,
Under the American Rescue Act of 2021, signed by President Biden on March 11th, there is a provision known as the COBRA Premium Assistance which could subsidize the monthly medical premium for employees, eligible for COBRA, from April 1st through September 30th of 2021.
An employee could be eligible if they had a reduction in hours worked or an involuntary termination of that person's employment. There are certain regulations that employers will need to follow, depending on the group employee size. Those companies with under 19 employees would follow the State of Connecticut Mini-COBRA, while those with over 20 would fall under the Federal COBRA regulations. Former employees who qualify for this provision could have their premium paid for by your existing insurance carrier and removed from your billed group medical plan.
There are many details in this new law and they're just being worked on now, so it's important that you work with your insurance carrier and your benefits adviser to make sure you're following the rules. Click hereto read a summary of the COBRA Premium Assistance Provisions. Learn about eligibility requirements and find the form for application.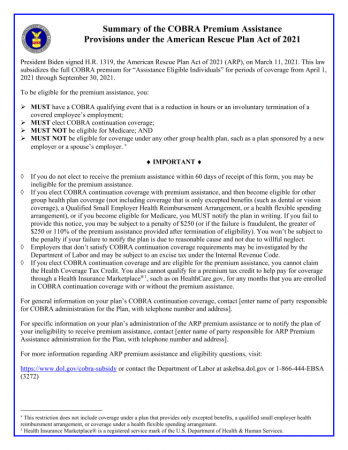 If you have any questions or any concerns, please feel free to give us a call at 860-674-2400 and we'll work with you to help decipher your responsibilities.
Thanks for your time and I hope all is well with you, your firm, and your family.
Martin J Coursey, CLU, ChFC
e: mcoursey@financialguide.com
t: 860-674-2400